The first time I saw the Buddha Boys brand was at a 420 expo in Victoria back in early 2018, about 6 months before cannabis was legalized in Canada. They were handing out free samples of their growing nutrients and showing off their end-to-end solutions on how to grow the best weed possible. The Buddha Boys team back them left an impression on me and their brand continues to impress me.
Since then, I've been seeing Buddha Boys canned cannabis for sale online more and more frequently with so many great reviews left by customers. So, it's time to see what this brand is all about in 2023, and more importantly, to see firsthand what all the hype is about. I went ahead and ordered a few strains of Buddha Boys cannabis, with the intention of doing a full review to help you decide if you're going to try it for yourself or not.
Buddha Boys Cannabis
 Review Contents:
About the brand and its craft.
Purple Mendocino strain review.
Tuna Kush strain review.
Where to buy Buddha Boys Cannabis online.
Final rating and thoughts.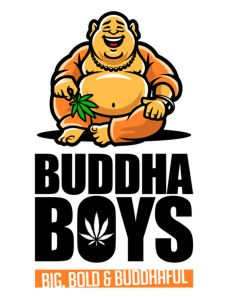 About the Buddha Boys Craft
The Buddha Boys Cannabis Canada team have over 23 years experience of growing commercial quality BC bud and have honed their craft year over year. They have developed over 15 proprietary nutrients that delivers the best growing formulas that are proven with consistent results.
The Buddha Boys craft is taken very seriously with commitment and passion focused on every step of the growing process. By utilizing their 15 proprietary nutrients to perfection, and with their over two decades of experience, their small batch cannabis is uniquely identifiable in look and feel, as well as flavor, no matter what strain it is.
Brand Appeal
As mentioned, I have been a Buddha Boys fanboy since 2018, this is for several reasons:
Their apparent passion and commitment to innovation and flower quality.
Their corporate identity, memorable logo and product packaging. Once you experience Buddha Boys firsthand, you will never forget them.
Canned tuna type containers: there is nothing like a sealed can of weed when it arrives at your door. When you crack the seal, you know you're getting premium dank buds that are cured perfectly.
The Buddha Boys brand can sometimes be confused with similar brand names such as Buddha Cannabis and Buddha Boys Candy Co. But make no mistake, Buddha Boys Cannabis is in a league of their own, and are truly a unique experience you won't forget.
Buddha Boys Cannabis Review: The Strains
It's about presentation that delivers beyond your expectations. Buddha Boys nailed it. Find my 2 strain reviews below with my unboxing photo gallery for each.
Purple Mendocino Strain Review
(AKA – The Purps, or Mendocino Purps)
Indica dominant: 60% indica/40% sativa. Unknown parentage, member of the purple family. Average THC content: 22%.
This strain took me and a few friends on a blissful trip to "Purple Mendocino" magic land! We noted that the beauty of this strain was not just its physical appearance, but its ability to strike the perfect balance between invigorating energy and soothing relaxation. It was as if there were no worries in the world, while still remaining clear-headed and able to engage with one another somewhat seriously.
Upon cracking open the sealed can, we were immediately greeted with delightful aromas of grape, coffee, and with a subtle hint of musky pine. It was a refreshing and unique scent that just seemed perfect.
The Purple Mendocino buds themselves are dark green with deep purple hues intertwined with enough orange pistils that accented the purple flower nicely. These buds were trichome-coated that was nothing short of mesmerizing to us. Each well-structured bud was firm to the touch and not hard as a rock. They were expertly trimmed and we couldn't wait to dive in!
As we ground up the buds, the room filled with a scent that tantalized our senses even more, oh the anticipation just kept building. We rolled up 3 joints and smoked them back to back more or less. Our first hits were like a taste fiesta with a heavenly marriage of fruity sweetness, with a touch of caramel. Our exhales were smooth and thick, they tasted like coffee and spice on the exhale. We immediately knew we were in for quite the ride in magic land.
To Sum Up
So, my fellow cannabis enthusiasts, if you're in search of a strain that offers a magical and happy ride that's full of energy, then Purple Mendocino could be for you. It's a deliciously beautiful and complex strain that's loaded with aroma and taste.
Tuna Kush Strain Review
Rare indica dominant hybrid: 70% indica/30% sativa. Phenotype of Hindu Kush. Average THC content: 18%.
For this Buddha Boys Cannabis Tuna Kush review, I am going to break it down using my rating system and then sum it all up.
My Tuna Kush Strain Ratings
Grade: AAAA
Cost: Expensive ($55 to $65 per 7 gram can).
Bag Appeal/Bud Size: 8/10 Dense and beautifully shaped colourful light green medium size nugs, lots of orange pistils (hairs) and crystal.
Cure & Humidity: 9/10 Professionally cured, not dry, with the perfect amount of dankness if you will.
Smell: 9/10 With a unique blend of slightly fruity and 3-day old fish aromas.
Taste: 10/10 Wonderfully sweet and sour, with a spicy tingle on the side.
Buzz Quality: 9/10 A true trippy head-high, that soon brings on some serious laziness.
Harshness vs Smoothness: Very smooth smoking strain, with velvet soft exhales.
To Sum Up
Tuna Kush is like one of your most reliable and laid-back friends who's always there for you, you know, something that you can depend on being consistently special. The strain is beautiful to look at with flavor like no other. It smokes ultra smooth and delivers that happy and trippy high that I love.
Final Ratings and Final Thoughts
FINAL THOUGHTS - This review was a long awaited treat in the making. Buddha Boy's craft cannabis has maximum flavor and taste, with unreal visuals. The strains were potent and expertly grown in my opinion.