As the second most populated city in Canada after Toronto, Montreal has it all: reminiscent vibes of Gothic and bohemian Europe with modern and diverse twists on culture when it comes to the arts, food, and a quickly growing marijuana tourism scene. There's no question as to why the city is growing so rapidly. Even the weed-loving rapper, Snoop Dogg was here praising Canada's advancement in the marijuana industry during Montreal's C2 technology conference!
Online Dispensaries and Weed Delivery in Montreal
Several Cannabis Culture stores, owned by the man, Marc Emery, the Prince of Pot himself, were opened in Montreal earlier in 2017 with great excitement from fellow cannabis enthusiasts. With marijuana legalization in Canada coming up, however, and harsher laws imposed on illegal distribution, these stores were raided and shut down fairly quickly. To the surprise and delight of many, particularly in the stoner community, however, the stores opened up again within days as head shops. This meant no cannabis was sold in stores. And, because the doctor's prescriptions were necessary to purchase marijuana from licensed dispensaries, and since legalization did not yet permit cannabis storefronts to distribute sales, people quickly flocked to weed delivery in Montreal.
Update 2023 – Find a Retail Cannabis Store in Montreal
What to do in Montreal After Getting Your Weed 
Contrary to what the rules dictate, Montreal is a weed city vibing with cannabis culture. Just check out one of these places and you'll most likely find fellow stoners.
 Stay High (Literally) Above the City at Mont Royal Observatory
The little hill, or small mountain, of Mont Royal is what gave the city its name. It features two belvederes, or lookouts from which you can gaze over the city. There's also a lake, sculpture garden and public park here. The most exciting feature for stoners here, however, is something called Tam-Tams, a weekly free festival at the Georgie-Etienne Monument in the park. Originally subversive and considered a space of counterculture with its permissive and accepting attitude towards marijuana smoking, this Sunday mini drum and arts festival is a go-to for many local stoners.
Chill, Smoke Weed, Eat, and Have a Drink or Two at Local Parks
Parc la Fontaine (Photo Cred: Phil Norton)
Mont Royal does have its own public park and three different peaks to view the city from, but there's plenty of public spaces and parks to enjoy nature from, like Parc Jarry, Montreal Botanical Gardens, Parc des Rapides, Parc la Fontaine, Parc Jean-Drapeau, Parc Maisonneuve–the list goes on! If you're a chill stoner and like spending time in the outdoors, basking in the sun, smoking weed and getting high, Montreal is definitely the place for you. Not only do they have so many options to choose from when it comes to public parks, but the city has something called a "picnic law", in which you can legally drink at a park, so long as you're having a meal/picnic. Pack a big lunch, have your weed ready, grab some cold beers, and experience the Montreal joie de vivre!
Edibles Aren't Going to Fill You Up – Get High and Go Munch on Famous Montreal Grub
Getting high and eating good is an obvious must in Montreal. And we're not necessarily talking about edibles. If there's a single thing from European French culture that Quebec has retained its gastronomy, and they do it pretty damn well. Montreal is undoubtedly a foodie destination, and some people visit just for that. From poutine to smoked meat (or viande fumee), bagels to steamies, the food in Montreal is to die for, and nowhere else in Canada can do it like they do. If you're looking to sample the delicious smoked meat (traditionally beef) of Montreal, Schwartz's Deli on St. Laurent Boulevard is an absolute must, and have been serving the signature dish since 1928. Across the street is another famous local favourite, The Main Steakhouse. Other delis and restaurants that will be sure to impress and satisfy that pit of yours includes are Lester's Deli, Fameux Viande Fumée et Charcuterie and Reuben's!
Attend the City's First Legal Cannabis Festival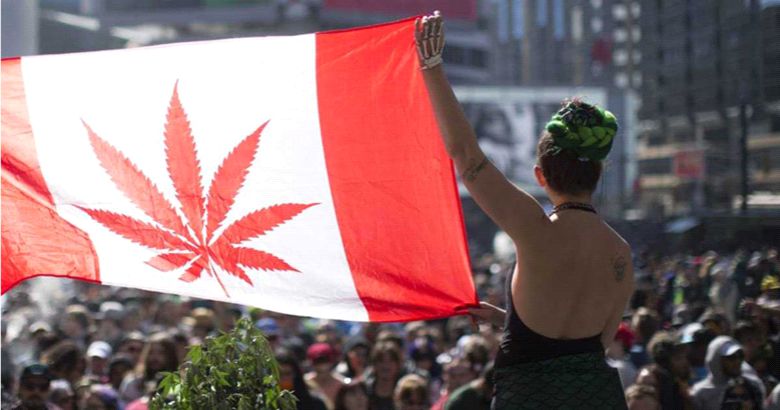 (Photo cred: Prohibition)
Stoners will need to keep their eyes wide open for this one: the first legal cannabis festival in the city, Pot Fest Montreal, will be taking place after legalization takes place this fall. Think of it as a marriage between a trade show and a big public celebration. So far, at least 50 cannabis industry professionals will be here to discuss the marijuana plant over a variety of subjects–its benefits, uses, politics–and to showcase their products. Producers, dispensaries, seed companies, medical clinics and health/wellness providers will all be present to answer your questions and demonstrate to you the ways marijuana can heal and be enjoyed. The city is already regarded as the festival capital of Canada, so you can bet that this will be a big one, and you won't want to miss it!
To Sum Up
Montreal may not be the first city that comes to mind when it comes to popular canna-cities in Canada. But hell, it's certainly one of the top destinations in Canada for weed tourism and one of the greenest cities in the country (I mean that literally). If you haven't been to Montreal, I strongly recommend it for all the reasons noted above and for so many more waiting to be discovered.
What are some of your favorite spots and things to do in Montreal? I'd love to hear about them in the comments section below. Do you know of any good Bud & Breakfast (B&Bs) or 420 rentals in Montreal?
Cheers,
The Chronic Beaver