Crystal Cloud 9 Online Dispensary Review & Unboxing
Welcome to my Crystal Cloud 9 review and unboxing. My usual crew of enthusiastic reviewers and I had some genuine good old fashioned fun with the bevy of 420 treats and accessories Crystal Cloud 9 sent us. Tucker was impressed and no doubt had the most fun out of all of us. Disclaimer – No animals were harmed or got stoned during the events that took place for this review.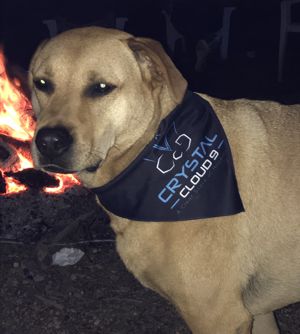 We wanted to give this online dispensary a unique vetting since I recommend them on my site and had so much fun with their products. It all started on a fine Saturday in early June 2021, there was 5 of us including Tucker. We were prepared for the day of events with a few yards of top soil, some big Black Cottonwood logs, an ATV, a burn pile, a S'mores kit, and with endless Frankfurters.
We set out to build a herb garden on a friends undeveloped property, then we had planned to finish the night with a big bomb fire, hot dogs, a S'mores feast, and with other yummy snacks, including fresh marrow bones from the butcher for Tucker.
After 7 grams of Crystal Cloud 9's finest flower, 2 grams of top their shelf shatter, and half a vape pen cart, we got it all done in epic rustic style none of us will soon forget. It felt like we were navigating our way thru a foggy forest, uncovering its natural rewards with a familiar but unique euphoric glee that shined on us all. There is something to be said about teamwork when everyone is on the same level – high as a kite that is. We may have not have been productive, but it sure was memorable, and we got er done! We even managed to not burn the place down, but I did burn my S'mores just the way they should be! Am I the only one who prefers burnt marshmallows?
Continue reading for a breakdown of how we enjoyed each cannabis product with our thoughts when it comes to quality, appearance, experience, and brand value. Additionally, in the conclusion, check out how our herb garden has grown spectacularly so far.
Crystal Cloud 9 review contents.
Dispensary profile and service quality
Unboxing review, and photo gallery
Cannabis products review, strains, shatter, vape pen kit
420 accessories review
Coupons, promos, and $100 ounces
Final rating, and final thoughts
Dispensary Profile and Service Quality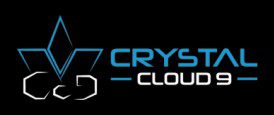 Crystal Cloud 9 is the new the kid on the block and launched in early 2021. I was pleased to hear the reports that their online dispensary has been a success from the get go. I wasn't surprised though, with their transparent commitment to quality, service, and value, plus their inviting brand, how could it go sideways?
The team at Crystal Cloud 9 are clearly passionate about supplying you with the best cannabis from the west, they are weed snobs on a mission.
Our mission is simple — we're here to make buying incredible cannabis online as easy as possible for you. Crystal Cloud 9 is a customer-focused, British Columbia-based online cannabis dispensary serving affordable, high-quality marijuana products shipped anywhere in Canada.

Our company was founded by three close friends who grew up together with a shared passion for high times. We've collectively worked in the cannabis industry for over a decade, and in that span, we've carefully observed the way most businesses operate. Suffice it to say we weren't impressed and set out to do things better! A big part of that boils down to treating our customers the way they deserve.
Service quality.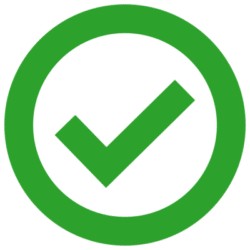 When I ordered online for this Crystal Cloud 9 review, I always try to ensure that my fans and followers get a real picture of what my shopping experience was like. In this case, my overall experience was more or less 5 stars. For a new shop, you usually encounter small hiccups in the system at checkout, and inconsistencies with product descriptions, or a lack of thereof. Not in this case, the flower I ordered had current batch photos, and with insightful information about the strain genetics, and effects. I also had a few questions about their shatter before I ordered it, as in whether it's house made or not. I shot off an email, and my query was answered almost immediately with a friendly, welcoming tone. By the way, the shatter was branded as house made, and was fantastic, more on that below.
Is Crystal Cloud 9 Legit?
Yes, Crystal Cloud 9 online dispensary is legit. They uphold the highest standards in customer commitment and product quality. They are a trustworthy and transparent brand with a privacy policy, refund FAQs, and a terms of service page published. Their website is secure and easy to order from.
Crystal Cloud 9 Unboxing Review and Photo Gallery
Check out my amateur photos using an iPhone, light box and Macro lens, fun, fun, fun!
Unboxing
The pouch full of 420 goodies arrived in 2 business days by Cannabis Post (Vancouver to Vancouver Island BC). It was professionally presented and doubled sealed, the shipping pouch contained a vacuum sealed black bag (as seen in the photo gallery) concealing the contents inside. Inside that bag contained all the individually packaged products, each was labeled appropriately and was branded tastefully.
I was happy with the overall presentation, it was discreet and smell proof. I particularly liked how the Shatter was packaged in its own snap container, makes for less mess and spillage.
The items I received and discuss below:
3.5g Pink Lemonade
3.5g Blueberry Yum Yum
2g Rockstar Tuna Shatter
Vice Vape Kit – Includes battery, charger and Clementine cartridge
Bonus accessory items.
Ashtray
LED glow tray
Medium rolling tray
Regular metal grinder
Large dog bandanna
Reusable face mask
Lanyard
Crystal Cloud 9 Review – Strains, Shatter and Vape Pen Kit
The Pink Lemonade strain at the log pile.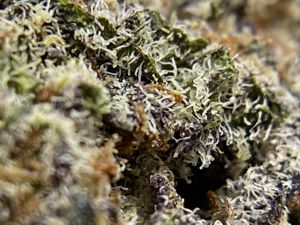 The Pink Lemonade strain we sampled first because of it's unmistakable berry sweet aroma and bag appeal. This strain from CC9 is indica dominant (80%/20%) and is graded as AAAA quality. I'll tell ya, it was some potent high test weed that tasted and smoked like a dream.
We launched our adventure by rolling our 3.5 grams into 2 joints and smoked them in front of the huge pile of mature Black Cottonwood logs. These trees are not ideal for firewood, so they were saved for landscaping and other any other uses we can dream up for them. While passing the joints around, we noted how even and clean they burned, and commented on the effects rather quickly thanks to Tucker. That lovable pooch spent his time in the wood pile beside us burying his bone frantically like the zombie apocalypse was on a fast approach with some serious hangry issues! Anyways, this made us laugh our asses off and set the pace for the day.
Pink Lemonade is defiantly a happy strain with creative influence. After some hilarious debate, we ended up selecting 4 perfect logs to be used as our herb garden bed rails. Now it's time to sample the next strain and get the ATV out so we can drag them to where they need to be.
The Blueberry YUM YUM strain and the ATV that could.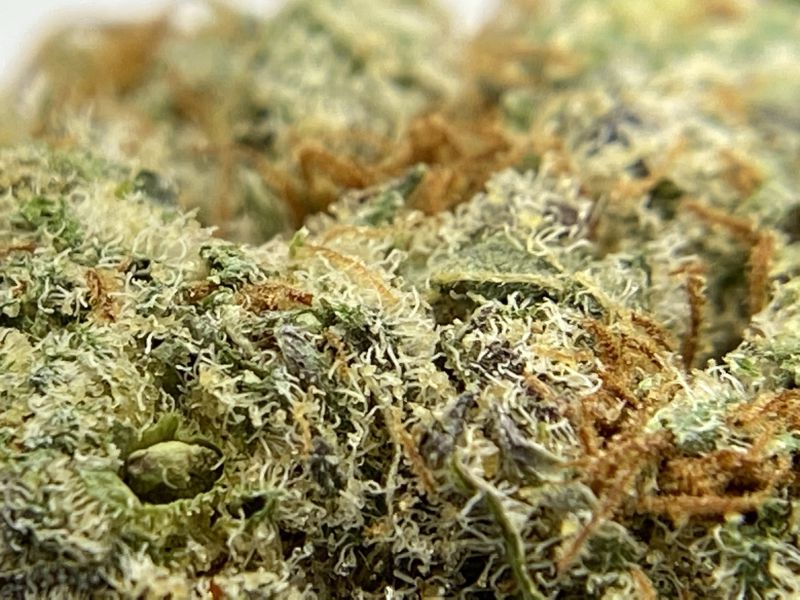 We got into the Blueberry Yum Yum strain after we had some fun on the ATV messing around. Our mission at this point was to drag out the Cottonwood logs to the herb garden site. Then we planned on placing them into position and backfilling with the topsoil. All the fine-tuning, chainsaw carving, and planting were best suited for another day if you know what I mean.
We have all gathered around the log pile once again while I was on the ATV (Yamaha Grizzly 700, tricked out for mudding). This time though we only rolled up one 2 gram fattie and saved the rest so we could mix in some shatter to build a nice salad joint for around the fire later on.
We are joint rolling enthusiasts with over 75 years of experience.
The AAAA Blueberry Yum Yum broke up wonderfully in the CC9 grinder. I was taken back actually, I have never seen bud fluff up so nicely and clean, it made me anxious. Two of us in our group are joint rolling enthusiasts with over 75 years of combined experience, man I'm old but young at heart I'm told! Anyhoot, what we do is pick out all the undesirables like bits of stem, leaf, and foreign material. All in an effort to make the smoothest smoking and looking joint or cone in this case. CC9's Blueberry Yum Yum was near perfect and needed to additional filtering, a rare treat.
We smoked our near perfect cone while debating how we are gonna rip out the logs from the pile while minimizing destruction of the natural setting. This isn't my first rodeo when it comes to skidding logs using light equipment, it's the ATV that could.
As expected, the Yum Yum twisted our perception and got us thinking like a bunch of half witted stoners/neanderthals, creating the hybrid effect if you will, hehehe. We ended up choking the largest log with a chain and jamming the quad in 4×4 low and giving it, in the finest "leap before you look" fashion. I took 3 runs at it, each time the quad was in the air and then digging holes to leverage that log out of the pile and out of the forest to get it mobile. I ended up at full throttle, spinning all the way to the garden site while hardly moving and creating maximum destruction. I had motivated cheerleaders egging me on laughing the whole time while I repeated the process for the other 3 logs.
"It wasn't my fault, I never meant to tear up the ground so much, I swear to god!" But seriously, we were cautious, nobody was injured during these events but maybe Tucker emotionally. He doesn't like the Quad or loud noises just like his mother, and we found him hiding in the car trembling scared, I'm sorry Tucker.
Vice Vape Pen Kit Review – The perfect middleman.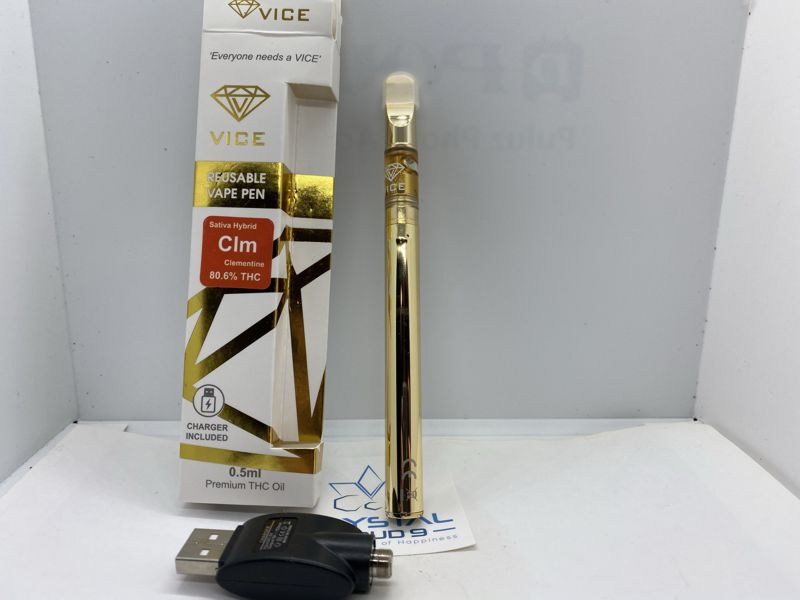 During all of the log moving shenanigans and through out the evening we were passing around the vape pen just because, well, why not, its the perfect middleman. It's always ready to deliver thick clouds on a seconds notice. This is our first time using the VICE brand vape pen, and it's true what they say "everyone needs a vice". The vape was loved for its ease of use with its button-less battery and bountiful puffs and exhales of rich dank clouds. The kit included a USB battery charger, a cartridge, and a (pen) battery.
The THC oil in the cart was above average quality, and not harsh. It clocks in at 80.6% THC, so you know it's gonna be potent stuff and that it was. It delivered mind-numbing effects that certainly helped dumb us down and contributed to the aforementioned "Hybrid Effect".
The final verdicts for the VICE Vape Pen Kit were all positive with the ease-of-use being the #1 pro. It's gold luxurious shiny finish was also admired by one of the crew, so she ended up owning it on her special day that was just around the corner.
Learn more about VICE Vapes & check pricing
Rockstar Tuna Shatter Review – The campfire munch sess and knockout punch.
The Rockstar tuna shatter is a potent combination of popular BC strains and is defiantly premium quality that I highly recommended to all shatter fans. It had a nice amber golden translucence, it was hard to the touch at room temperature and snaps like top shelf shatter should. It tasted clean with natural terpene flavors present, and with no harsh butane or chemical back flavor.
We got into this shatter mostly at the bonfire cookout after 3 hours of smoking weed, and hitting the vape pen while setting up the herb garden. First we loaded the concentrates vape pen and hit that until we vaped about a gram of it. In the meantime, Tucker was in rip and tear mode and was trying to pull roots out of the ground while getting more determined by the minute. I've never seen anything like it, we watched in hysterics and cheered him on like we're his entourage of loyal fans. All of this excitement stopped for everyone the second food was brought out.
The next 30 minutes was all about hot dogs on a stick, mustard, cheese, top-slice buns and a big ass fire that was too large for a weenie roast. It was an epic well deserved feast of over cooked saturated fatty processed meat.
Now for the final knockout punch.
Okay, it's about 4 hours in, and we are almost finished smoking and vaping everything. Our bellies are full, Tucker is in chill mode, and we're staring down a S'mores kit. But before we get into burning marshmallows and melting chocolate, there was one more joint we needed to smoke. The Blueberry Yum Yum, shatter salad joint. So I twisted the rest up, the only thing left was the half full vape pen. We tried our best to smoke that evil evil salad joint, it was soooooo potent. The slightest draw would yield huge thick clouds that hit like a solid left hook to the face. I think we were punch drunk and it became apparent that it was soon time to summon our rides home with our tales behind our legs and with our stories in front of us.
Crystal Cloud 9 420 Accessories Review
CC9 threw in some bonus 420 accessories that were appreciated and came in handy. The LED rolling tray was by far the neatest of them all, and handy when rolling in dark places, like around a bonfire for example. You never lose sight of your stash with this tray, no matter what.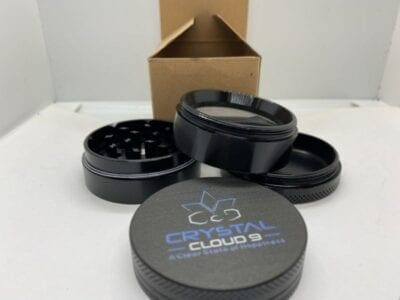 The rest of the accessories were high quality, and branded so you look like the cool kid on the block. The 4 piece grinder was a perfect size for rolling on the go, with a quality build that felt tight and smooth.
Doesn't Tucker look like a stud wearing that CC9 bandanna?
Coupons, Promos and $100 Ounces
What would my Crystal Cloud 9 review be without highlighting their cheap ounces and promotions, and they have a lot.
Coupon Codes
Use code new20 for 20% off your first order
Chronic Beaver exclusive – all first orders come with 7 grams of free weed
Use our 2nd coupon code: backfor30 and get $30 off your 2nd order. (coupons can not be combined)
Promotions
Free express shipping Canada wide on orders over $145

New

 – Flash sales, with up to 50% off select products
All members get free birthday gifts, learn more
Earn reward points on every order, learn more
$100 or Less Ounces
Find some great strains sold by the ounce, all $100 or less at AA to AAA weed quality.
Final Rating, Final Thoughts
I hope my Crystal Cloud 9 review was helpful and a fun read for you. If you have any questions please post them in the comments section below, and I will help the best I can.
Here is our herb garden as of July 5, 2021. It's growing like primo old school skunk weed that once dominated the island back in the seventies and eighties.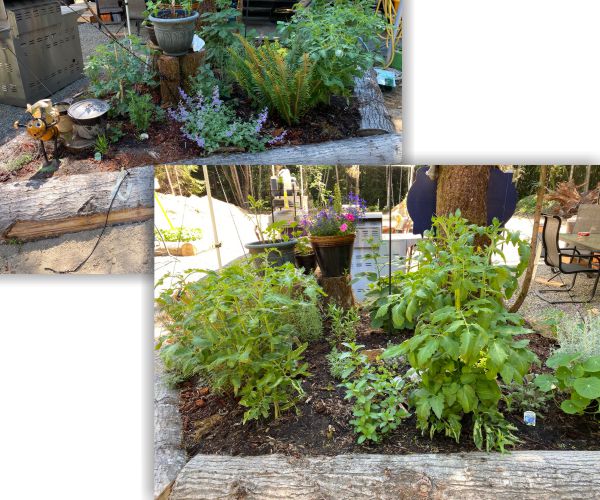 Make sure to check back for my next review, we are becoming geniuses and are eating an ounce of shrooms in the wild. I wonder where we will end up?
Cheers,
The Chronic Beaver
(See my final rating and thoughts below)
FINAL THOUGHTS - Crystal Cloud 9 is a great brand and addition to the online dispensary space with top-tier service and products with good value thrown in.