LiT Vape Pens Review
Introduction
Welcome to my LiT Vape Pens review and Lit Cartridges review. LiT Vape Pens is one of Canada's best online vape shops for retail and wholesale THC & CBD vape pens, vape pen starter kits, and cartridges. LiT Vapes is not just a vape shop, they also have a unique offering of THC & CBD edibles, THC and CBD ejuice, compatible LiT THC JUUL pods, and tinctures.
I was thrilled when I was presented with the opportunity to sample and review their vape pens, LiT cartridges, and edibles. Continue on and see how much I enjoyed getting LiT up, and learn more about the LiT Vapes Brand Canada.
The Chronic Beaver reviews online dispensaries in Canada, cannabis brands, vapes, and vape pens of all types. If you would like to have your business and products profiled and reviewed, please grab our attention and let's talk.
LiT Vape Pens Review &
Company Profile

LiT Vape Pens is based out of British Columbia and has Canada's best selection of THC & CBD cannabis vape pen cartridges and vape pen starter kits. They also stock a large selection of THC and CBD strain specific vape cartridges, fruit flavors, THC JUUL compatible pods, and THC e-juices for Vape Pens, THC & CBD edibles and concentrates.
LiT Vape Pens have propriety distillate blends and vape juice formulas and state of the art vape pen hardware that are safe and trusted in Canada to deliver you the best vaping experience possible.
The LiT Vape Pens Brand – History
"Being born and raised in British Columbia we grew up with the highest quality cannabis available. Unfortunately we cant always medicate with dry herbs they way we want to. We found out quickly that we needed a way to medicate discreetly without the smell sticking to our clothes or fingers, and be able to smoke in public without the scrutiny or stigma from others that still exists today which brought us to vape pens. We have tried countless vape pens but none lived up to the hype or quality we expected and grew accustomed to from BC Bud. With access to some of the worlds best cannabis we knew we could do better than the competition, and from point on LiT Vape Pens was born."
"We knew from the start that if we were going to do this we had to have the best concentrate oil available, no nasty fillers, and the best hardware available to vape with". With these goals in mind came our mission statement, to provide:
The Cleanest way to get LiT up!
Sourced from only top quality cannabis concentrates.
Sourced from only the highest grade CO2 extracted oils and blended with the highest quality botanical food grade terpenes available on the Canadian market. Their products and methods are all designed first and foremost for your body and mind. Lit Vapes blends do not contain any PG, VG, PEG, MCT, Coconut oil, or any other harmful ingredients that were in the news recently.
Is LiT Vape Pens Legit? 
This is a common question that's on everyone's mind before committing to an online purchase decision, and rightfully so. Yes, LiT Vape Pens is Legit and are a trusted brand in Canada with a customer satisfaction guarantee. LiT Vape Pens will do everything they can to make sure you are satisfied 100%, just read their customer reviews, they support that customer satisfaction claim very well. Their website is professionally designed and fast, their product is excellent, their shipping is fast and trustworthy, and the Lit Vape Pens team are a great bunch who are committed to excellence all around.
WEBSITE SECURITY - SSL certificate, 256-bit encryption
100%
SUPPORT - Live chat service with responsive email support
100%
NO HARMFUL ADDITIVES & SAFE - No PG, VG, PEG, MCT, and Coconut Oil
100%
LiT Vape Pens
Coupon Codes & Promotions
Lit Vape Pens run deals and promotions frequently, you will see them promoted on their homepage from time to time, and look for discounts for their vape pens, kits, and vape juice that are marked on each product listing when they go on sale. Here are Lit Vape Pens current coupon codes and promotions.
LiT Vape Pens
Exclusive Coupon Code
Get 10% off your first order at Lit Vape Pens, use my exclusive coupon code: ChronicBeaver10 (one-time use).
LiT Vape Pens
Promotions
Join Lit Vape Pens VIP list and new customers will get 20% off their first order.
Get free shipping Canada wide on orders over $99.
LiT Vape Pens Review –
Unboxing
My order from LiT Vapes Pens arrived by Cannabis Post in blazing time (2 days), and a tracking number was provided by the LiT Vape Pens team in short order.
I received the following products for this LiT Vape Pens review:
(As seen in the photo gallery below)
LiT Vape Pens starter kit with a Fruit Loops cartridge
An extra LiT vape pen cartridge – Sour Diesel Strain
One LiT disposable vape pen – Green Crack strain
Ed n' Bill's Candy Co Edibles – Fuzzy Colas
Unboxing
The package arrived in a standard Canada Post small white box that was doubled taped for good measure. The package was presented with no indication of what was inside, and with no cannabis related odors of any kind. Each product inside the box was branded and labelled as expected (as seen in the photos below). A call out for the LiT Vape Pens starter kit box, it's very sleek and exclusive, with a push button release to slide out the contents. It makes you feel deserving and excited to get lit up with Lit!
Click on the Photo Gallery to view the full size images with controls.
LiT Vape Pen Starter Kit Review, LiT Cartridges Review, and LiT's Disposable Vape Pen Review
For this LiT Vape Pens review, my girlfriend and I tested the LiT vapes and cartridges for about 4 weeks and have been enjoying them thoroughly. They are easy to use, packed with flavor and punch, and make fantastic travel companions.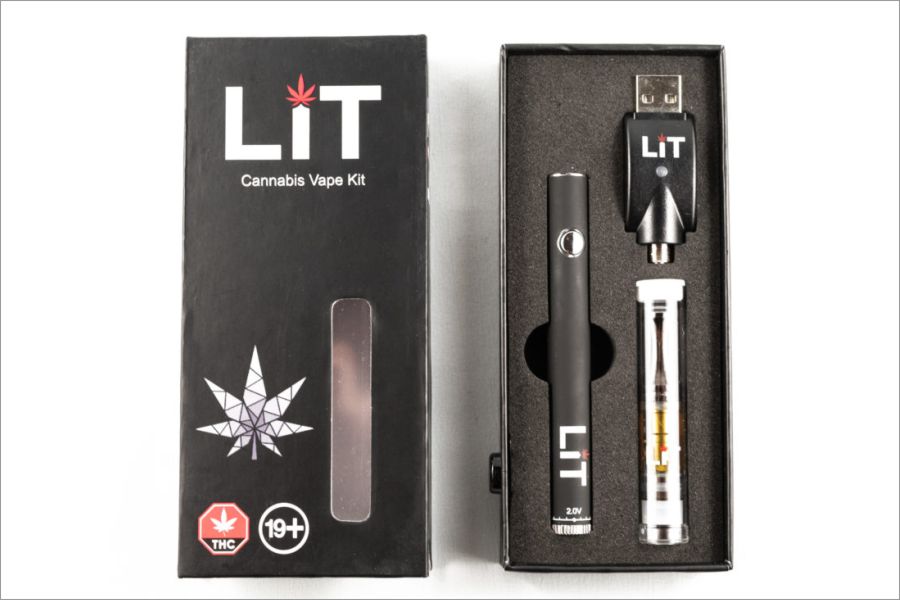 LiT Vape Pen Starter Kit Review
The cannabis vape pen starter kits at Lit includes everything you need to enjoy vaping some killer strains right out-of-the-box. The hardware is high quality and performs well, so far it's been an easy plug n' play type experience. The pen has a black matte finish that feels good in your hands with a nice weight to it, some pens on the market I feel are too heavy that can be a hindrance in your pocket.
The THC or CBD vape pen starter kit is available in two sizes (1000 MG and 500 MG), and include:
One vape pen rechargeable 350 mAh lithium-ion Twist battery with adjustable voltage and universal 510 threading.
One USB screw on charger. The battery came charged and charges rapidly in approximately 30 minutes.
One pre-filled LiT cartridge (1000 MG and 500 MG of LiT oil).
How to use LiT Vape Pens Guide with Troubleshooting
Ease of Use
The LiT vape pen start kits are sleek, smart, and are an easy to use solution to get vaping quickly. All you have to do in a nut shell is open the vape kit box and take out the contents, then screw on the cartridge to the top of the charged vape pen battery. Hit the button 5 times to turn it on/off and start vaping high-quality BC concentrates with no mess, no fuss!
Twist Variable Voltage Battery Settings
The Twist variable voltage battery that comes in the LiT Vape Pen starter kit has 5 voltage settings (2V, 2.5V, 3V, 3.5V, and 4V), the higher the voltage you use, the bigger vape rips you will get. On the bottom silver twist dial on the pen, you will find a tiny red line that indicates which voltage setting you are on. I personally prefer to use the lowest 2V setting for more controllable clouds with less choking.
When it comes to vape pens, the voltage setting option is a nice feature because it allows users to tailor their vaping experience the way they want it. If you are into crazy rips and clouds, then crank up the voltage, and vise versa. One thing is for sure though, you will love it and will get LiT up! Please remember to use responsibly.
LiT Vape Pen Troubleshooting Guide
Here is a handy self-help guide to answer some common questions about your LiT Vape Pen.
Issue: Button is Flashing 10 times
Reason: Coil protection
Solution: This happens when the button is held for more than 10 seconds. Please release button and try again in a few moments
---
Issue: Button Flashes Red, Blue, Purple
Reason: Preheat function
Solution: To turn off, press button 2x rapidly. Button light will flash 3 colors quickly to notify user
---
Issue: Button Flashes Red light
Reason: Out of battery power
Solution: Charge battery
---
Issue: Button Flashes Purple light 3x when connected to the cartridge
Reason: Short Circuit Protection or cartridge is twisted on too tight
Solution: Try cleaning the electrodes on battery & cartridge. Or, once the cartridge is fully on, press button while taking cartridge off to find when button turns solid
---
Issue: Button Flashes purple light 3x when NOT connected to cartridge
Reason: Short Circuit
Solution: Clean electrodes on battery, there is likely metal scraps that shorted the battery out temporarily.
---
Issue: Cartridge is clogged
Reason: May be some oil residue build up in the air tube
Solution: Take a tooth pick or pin and poke down the air-hole to see if you can clear the blockage
LiT Cartridges Review
I have two LiT Cartridge reviews, the first Lit Cartridge review is the cart that came with the Vape Pen Kit, Sour Diesel Sativa strain (500 MG). The second LiT cart review is the Indica Fruit Loops flavor (1000 MG).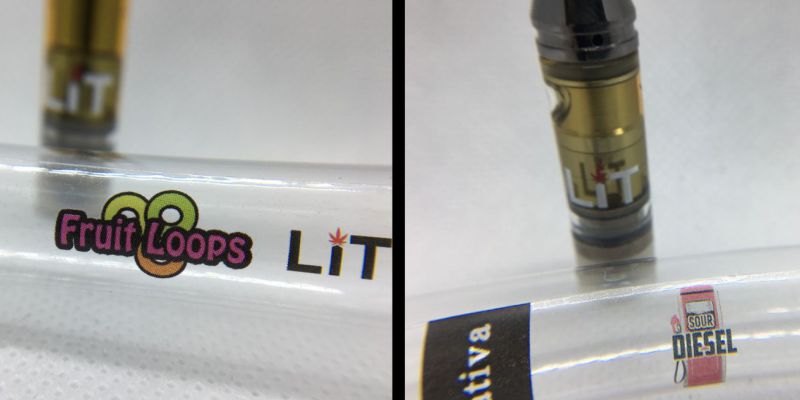 LiT Cartridges Review – Sour Diesel Strain 
Lit's Sour Diesel refill vape cart is filled with a rejuvenating sativa-dominant strain concentrate. The Sour Diesel cartridge flavor and taste is pungent, earthy, with a hint of diesel-like back flavors on the exhale. I wasn't expecting couch lock and a "heavy feeling" when vaping Lit's Sour Diesel cart. Instead, as expected from a Sativa dominant strain, I felt an uplifting cerebral high that opened some creative thinking that led to some funky designs on my sketch pad for a new meme I'll publish when it feels right.
LiT Cartridges Review – Fruit Loops Flavor 
Lit's exclusive Indica Fruit Loops vape cart captures the specific combination of fruity flavors to give you that fresh-out-of-the-box experience of this memorable cereal. It's quite amazing how much this cart tastes like Fruit Loops or Trix cereal. It will make you crave some milk and cookies after a good vape session, and eventually a good weed nap!
The high I got from this LiT vape cart this was relaxing, that made me chill on the couch and not think about work for the afternoon. It also helped with my pain and provided a full-body experience that was welcomed. The stand-out comment that I can say for this LiT cartridges review of the Fruit Loops cart is that it made me appreciate my down time in a stress and pain free manor with some nostalgia thrown in.
Final Thoughts
LiT vape carts are built with high quality parts and state of the art hardware, and they didn't leak or act up at all while vaping. I'm about half way through both carts, the 500 MG Cart (about 140 puffs) and the 1000 MG Cart (about 250 puffs) so far.
It's been a hassle free experience with LiT's brand that I can tailor it to my vaping preferences using the adjustable "Twist" voltage feature. A quick note about LiT cartridges " LiT cartridges are only compatible with button activated batteries. These cartridges will not work with any button-less batteries.
LiT Disposable Vape Pen Review
My disposable Vape Pen review includes Lit's Green Crack THC disposable Vape Pen (500 MG).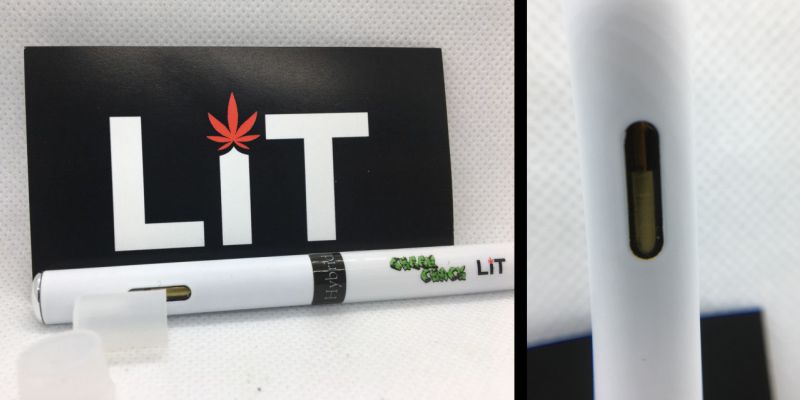 LiT disposable vape pens contain 500MG of THC oil that are available in Indica, Hybrid, and Sativa varieties with lots of strains to choose from.
Features
White colored disposable pen.
There is no need for cleaning and maintenance.
Oval shape design to prevent the vape pen from rolling away on uneven surfaces.
Clear window to view LiT liquid level.
LED light when the battery is activated.

I sampled the Green Crack strain disposable vape pen for one week with my girlfriend and here are the things we liked most about it:
It's light weight, small, and super discreet while on the go.
We loved how the bottom of the vape pen lit up when you draw off it. It shines the LiT logo red, indicating that all is good in the hood.
The flavor and taste was clean and slightly fruity, and natural tasting, just like how the flower tastes in a dry herb vape.
This Green Crack disposable vape pen delivered a quick and energizing high. It was more of a mental had spinning buzz that lingers that's fun when your in the mood for it. You won't be taking a weed nap on this Green Crack vape pen, you'll just lie there racing with whatever is going on in your mind.
Conclusion

&

 Final Rating
If I left something out of my review of LiT Vape Pens or if you have any questions, please let me know in the comments section below and I'll get back to you ASAP.
See my final thoughts and LiT ratings below.
Cheers,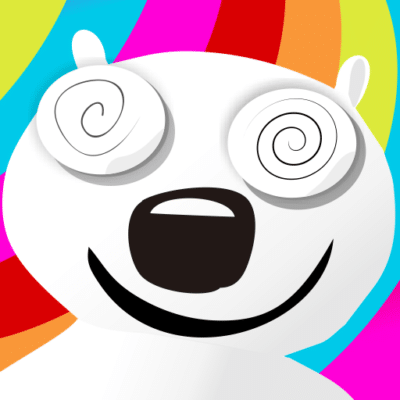 The Chronic Beaver
See my Vape Shop Deals & Coupons page for 420 vape pens, kits, and vape juice.
FINAL THOUGHTS - LiT Vape Pens is a great Canadian brand with high quality vape pens that are feature rich. I recommend them to anyone who are THC or CBD vaping enthusiasts.