It's BC craft cannabis at its best. 
I've been hearing that 1964 Supply Co has been dropping some fantastic bud this year, so I went out and picked up some of their craft cannabis from my local dispensary storefront with the intent to do a review. I asked my budtender for a recommendation of their best selling organic cannabis, and 1964 Supply Co Organic Romulan was brought to my attention – perfect! So, I bought a gram of it that cost an alarming $13.74, taxes in.
My first thought was that this BC bud better be good for the price, and it delivered beautifully. My friend Ray and I were elevated into a stress free and enlightening high that temporarily put us in the perfect headspace for creating new content ideas and of course for lunch! We almost forgot that this strain is a powerful Indica and soon realized its effects. Needless to say, I smoked more of 1964's Romulan before bedtime and I slept like an old growth log, you know, the BC Douglas Fir type.
This strain review includes the following:
Photo Gallery
1964 Organic Romulan Review and Information
Find 1964 Organic Romulan Near Me
Final Ratings and Final Thoughts
1964 Organic Romulan Review and Information
My Romulan Experience
As mentioned in the introduction, after smoking 1964's Organic Romulan we were elevated into a stress free and enlightening high. Ray and I shared a half gram joint, and we made sure that it was our first toke of the day so we would feel the strain's full effects. We are both content creators and a nice puff to help get the creative engines running is always ideal to help conceptualize original works and designs. But that didn't happen.
At first, we got very energized like how a Sativa would make you feel. We became very rational in a way that our expression uttered spontaneous logical insights that conflicted with our content ideas that were flowing at the time, it really didn't matter though. So yeah, it felt like everything was deemed futile, but the overarching temptations of lunch persevered!
As the lunch menu suddenly became the most important thing in life, we almost didn't notice the strain's Indica effects creep in. Soon we were calm with a new focus – self indulgence. Our work was no longer on the table and we didn't care one bit. Yup, we ate like kings and queens and had a blast in the kitchen with endless laughs and culinary delights.
That night I smoked the rest of the gram before I went to bed and watched YouTube for about 6 minutes before I faded away into a sweet motionless night sleep. It's rare that I sleep straight thru the night and get 7 hours in, so Organic Romulan by 1964 Supply Co is definitely a great strain to help you get your well deserved rest.
Bag Appeal / Appearance
I bought one gram of dried cannabis for this 1964 Organic Romulan review. The strain was packaged on August 15, 2022 and was purchased on September 19, 2022, so it was a fresh drop and not old and dried out to a pulp. The package contained two tight medium sized nugs that were very pleasing to the eye. The strain is grown in organic soil, hang-dried for 14 days, and cold cured. These curing techniques must have attributed to its appearance and bud structure because they were surprisingly dense for organic weed and they were a spectacle to say the least. We marveled over the colourful and frosty accents while stoned on the strain. I think this is when the idea of "lunch" started to overcome my thoughts 🙂
Aroma and Flavour
When I first cracked open the bag, the Romulan immediately forced itself into my senses. The aroma had a terpey sensation of citrus and berries that felt like it was served in the right setting in the shade under a mature pine tree on a hot summer day.
Smoking it was also an excellent experience. Because of how it smoked it became Ray's favorite strain for smoothness. It didn't hurt her throat at all. The Organic Romulan had smooth and slightly fruity flavour profiles when smoked with creamy tasting exhales of thick dank smoke. The joint burned evenly with a nice clean ash using Raw rolling papers.

Find 1964 Organic Romulan Near Me
1964 Supply Co is a popular craft cannabis brand that can be found at most local cannabis stores and online. Here are your best methods to find this strain near you.
Storefront Retailers – 1964 Cannabis Near Me
Online Retailers – Legal Online Dispensary Guide (jump to your province)
Final Ratings & Thoughts
Be a part of this 1964 Organic Romulan review. Do you have first-hand experience with 1964's Organic Romulan strain? How did you like it? Let everyone know and leave your own review in the comments section below or on their brand listing on Budhub.
My final ratings and thoughts are detailed below as well.
Cheers,
The Chronic Beaver
1964 Organic Romulan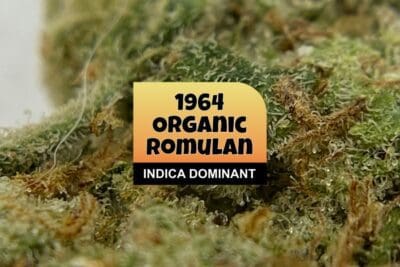 1964 Organic Romulan is a premium indica dominate cannabis strain by 1964 Supply Co. in Canada.
Product Brand: 1964 Supply Co.
Pros
Licensed lab tested product
Organically grown
Excellent quality
Smooth and aromatic
Cons
Expensive
Hard to find in large quantities
Can be shipped as a dry product
Final Thoughts – 1964 Organic Romulan is beautiful to look at and is a powerful Indica that delivers as it should but beware of early rushes of energy and creativity that quickly fades away.