Bob Vape Pen Review
Welcome to my BOB Vape Pen review. BOB's vape pen kit came from Canada Cannabis Dispensary. I added it to my weed order to try out this newer Canadian vape brand to see how the distillate (THC oil) was and how it performed in the vape pen and on me.
This review includes:
About My Name is Bob Vape Brand Canada
BOB vape pen review and Starter Kit
BOB cartridges review (Blu Berri)
Where to buy BOB vape pens online
Final Ratings & Final Thoughts
The Chronic Beaver reviews online dispensaries in Canada, cannabis brands, dry herb vapes, and vape pens of all types. If you would like to have your business and products profiled and reviewed, please grab our attention and let's talk.
About My Name is Bob Vape Brand Canada
Bob Vape Pens or "My Name is BOB" is a new vaping brand in Canada who features vape pen starter kits, and refill cartridges. Bob's vape pens are manufactured in accordance with Canadian industry standards and are subject to strict quality control and safety tests.
BOB's refill carts come in 7 flavors of THC distillate:
Blu Berri
Bob's Widow (White Widow)
Pin Diesel (Pineapple Diesel)
Clem Entine
Water Melon
Jill Ahto (Gelato)
Blue Dream.
Bob products only use natural extracts and terpenes that are completely PG, VG, PEG and MCT oil free. BOB takes health and safety very seriously and their goal is to provide the best tasting, the user best experience, and the best quality vape pen hardware on the Canadian market. Bob Vape Pens are the result of years in the making.
Bob uses a proprietary technique to distill cannabis oil that removes all impurities. Resulting in a co-developed vape pen that quickly and smoothly vaporizes the thickest and most purified oil.
NOTE: All BOB vape pens use 510 threading.
Bob Vape Pen Review and Starter Kit
The Bob vape pen kit is a simple set up, and very easy to use, so easy in fact that no instructions are supplied with the kit. You just open the package, screw on the cartridge to the pre-charged battery, and start vaping, no button is required to get a hit. There is a light at the bottom of the vape pen that illuminates when you are taking a hit to show that its working.
The Bob vape pen starter kit includes everything you need to enjoy vaping some killer distillate out-of-the-box. The hardware is high quality, has a comfortable matte finish and performs smoothly. So far it's been an easy, hassle free vaping experience, and I'm almost finished my Blu Berri cart.
The starter kit includes:
One Buttonless Vape Pen & Battery
One Refill Cartridge (Cartridge contains 0.6g of THC distillate)
One USB Charger
Bob Vape Pen Review – Blu Berri Cartridge

The Bob Blu Berri cartridge contains 0.6g of distillate packed into a 0.5g cartridge to provide more value for your dollar. These are sealed disposable cartridges that last around 200ish puffs, depending on your vaping habits. For me, I'm about a little more than half done with my cart, and I'm just over 100 puffs, yes, I'm counting!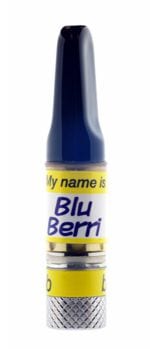 Flavor, Smoothness, Performance
The Blu Berri cart is a complete joy to vape, its flavor is like blueberry pie with a little bit of whipped cream on top. A very rich, creamy, satisfying expedience.
Bob's Blu Berri distillate is some of the smoothest I've vaped, it's not harsh at all, a real treat indeed. It doesn't make you want to cough a lung out and be anti-social, but alternatively, it makes you feel comfortably numb and relaxed, while being super easy going and friendly. It's a high performing cart perfect for lazy days and nights hanging out with friends and family.
I love Bob's vape pens and carts because when you're taking a hit, you can control how big you want that hit to be with precision. I get the most precise hits with Bob's vape pen when compared to the other ones I reviewed.
During the day time, I like to take smaller hits to stay functional, but in the evening, I prefer large clouds, and lots of them man so I can sink into the couch and melt away into the night. Bob lets me do this with ease, their distillate blend and consistency is perfectly balanced with their vape pen hardware. This allows you to take draws off it the way you want without getting too little or too much vapor.
Here is a description of Bob's vape cartridge flavors and strains for your review.
Put into words by Bob himself! 
Blu Berri
Pretty much a creature of the night, I have a bit of a mixed background as I was conceived during a three-way in the late 70's. It was Thailand or Afghanistan, no one seems to know for sure. My bet is Afghanistan because I can get pretty mellow. If we hang out, I'm going to tell you right now, don't plan on accomplishing anything. Seriously. Netflix and chill? Hands off my jam, bitch.
Bob's Widow (White Widow)
Born in Amsterdam, I am young at heart with a bit of a wild streak. For a widow, anyway. The party starts when I get there, that's for sure. I have a lot of energy and get my groove on without delay, probably becasue my parents are a Brazilian Sativa and a South Indian Indica. Also, I like to talk. Like, A LOT. A born multi-tasker, I am generally a happy person and my friends tend to ditch their stress when we hang out cuz they find me #uplifting.
Pin Diesel (Pineapple-Diesel)
My mother was a half-Hawaiian princess and my dad is a heavy-duty mechanic. I know, right? Some hybrid and sativa madness here. Don't let my ripped physique fool you – I also work the mental gym pretty hard and can talk about anything for hours – I can really get into your head. Fast, but never furious! When it's go time, baby, I AM ON and it's magic. Even with all my energy, I tend to help my friends chill out or perk right up, depending on the kind of day they're having. I don't know what it is, but people seem to dig it.
Clem Entine
I grew up in the grove. It's my whole life – there's nothing I like more than chasing the Lemon Skunk through the Tangie grove just after it rains. So uplifting yet so relaxing. I enjoy a night out but don't get invited to too many parties as I tend to overpower the room. I can be mellow if that's your thing. If you like feeling ridiculously happy, I can do that too. If you need
Water Melon
I'm a bit slow to get going, but once I'm there you're not going to forget me. Like a cat, I creep up slowly and make myself at home on your lap. Next thing you know you're purring right along with me, letting go of the un-fun parts of your day. My special skill is that I can make other people more interesting. Hit me up and see for yourself.
Jill Ahto
So, my parents met at a farmer's market. My mom sold thin mint Girl Scout cookies and my dad was a dashing spooner of Sunset Sherbert. I suppose that explains why I'm so social. I'm active but also pretty intense sometimes, so be ready for me if we meet – I put the moves on pretty quick. But don't worry! I will find your tender spots and work them out.
Blue Dream
Ready to get with a real breath of fresh air? You will know, from the minute we meet, that I'm the one you've been looking for. I love to get up and take on the day, to get out and do stuff, have fun and talk about everything and nothing. Then snuggle in with you. I'm not big on anxiety though, and my personality may be too much for some. Doesn't mean we can't be friends!
Other trusted online dispensaries to get BOB online:
Final Rating & Final Thoughts
If I left something out of my review of Bob vape Pens or if you have any questions, please let me know in the comments section below and I'll get back to you ASAP.
See my final thoughts and ratings below.
Cheers,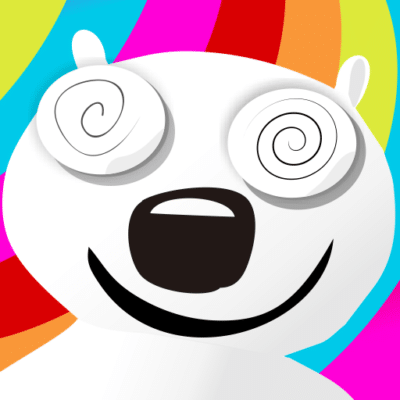 The Chronic Beaver
See my Vape Shop Deals & Coupons page for 420 vape pens, kits, and vape juice.
FINAL THOUGHTS - Bob Vape Pens is a great new addition to the Canadian market, with a value added brand that delivers a fantastic vaping experience every time.