Marking a stride into the future of organic smoking solutions, the Straight Goods Supply Co. Disposable Vape Pen is a must-try! Exquisitely crafted with a modern metal design and packed with 1g of top-grade, 95% solventless distillate coupled with 5% organic plant-based terpenes—it's an unmatchable fusion of style, power, and health. This vape pen smokes beautifully, with even rips that are packed with potent flavor.
With a stunning bouquet of flavors like Blueberry OG, Cantaloupe Haze, Gorilla Glue to name a few, this vape pen is all about adjustments, allowing control over the strength of each inhalation. It's more than just a vape pen, it's relief for anyone wrestling with anxiety, depression, chronic pain, or fatigue. At a humble $35.00, it comes complete with a best price guarantee and unfailing discretion in packaging. Not to forget, shipping is on the house for orders crossing the $149 mark and newbies get to pocket 20% off as well as a complimentary gift with several other coupons available for repeat customers (see my Speed Green Review for more details)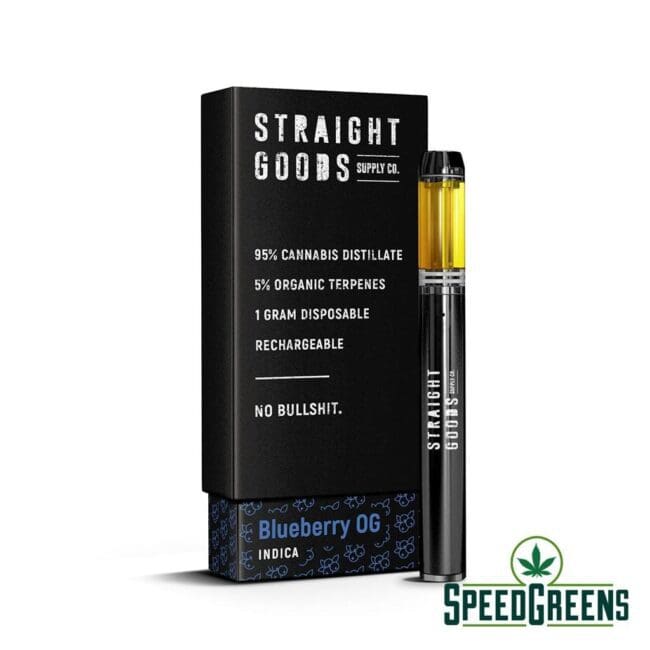 Why Consider This Product?
You might have come across numerous vaping products in the market, but the Disposable Vape Pen by Straight Goods Supply stands out and shines among them. With its cutting-edge technology, impressive soluble content, and terpenes, this product guarantees a vaping experience like no other.
The vape pen spares you from the worries of constantly refilling, thanks to the pre-loaded feature, and brings to you an array of flavors to choose from. Plus, the decoding and transcribing of the cannabis plant that goes into making this pen is astoundingly refined. Partly organic and devoid of harmful solvents, this vape device transcends the traditional way of smoking, which is scientifically proven to be not as good for your health.
Interesting Attributes and Advantages
Efficient Draw-activated Mechanism
You don't have to fumble with settings or buttons. The pen activates when you draw, thus ensuring a seamless vaping experience every time.
Adjustable Airflow
With this feature, you get to control the strength of each inhalation, allowing you to customize your experience to your preference.
Varied Flavors
Whether you prefer the sweet notes of Blueberry OG and Grape Ape, or the musky tones of Gorilla Glue, there's something for every palate in the flavor spectrum. For this review I tried the Gorilla Glue strain and it was fantastic, flavorful, and hard-hitting.
Organic and Pure
With an absence of Propylene Glycol, Vegetable Glycerin, MCT Oil, and solvents, the pen offers a cleaner and safer alternative for smokers.
Product Quality
This Disposable Vape Pen aligns with the standards set by Straight Goods Supply Co. The high-quality distillate used is 95% insoluble and supplemented with 5% plant-based terpenes to maximize its therapeutic effects, making it a product of unrivaled quality.
What It's Used For
Managing Anxiety
It can help lessen feelings of anxiety for a more peaceful mind.
Assisting with Chronic Pain
The pain-relieving properties of cannabis can help soothe chronic pain and discomfort.
Mood Enhancement
With the unique flavors and terpenes, not to mention the high, it defiantly creates a positive experience and elevated mood.
Combatting Fatigue
The beneficial compounds of cannabis can help rejuvenate the body and combat fatigue, ushering in a sense of energy and vigor to hep you get through the day.
Who Needs This
From the seasoned smoker to the vape enthusiast looking for an organic and handy product, the vape pen caters to all. It's also ideal for anyone seeking to alleviate their anxiety, depression, chronic pain, or fatigue naturally.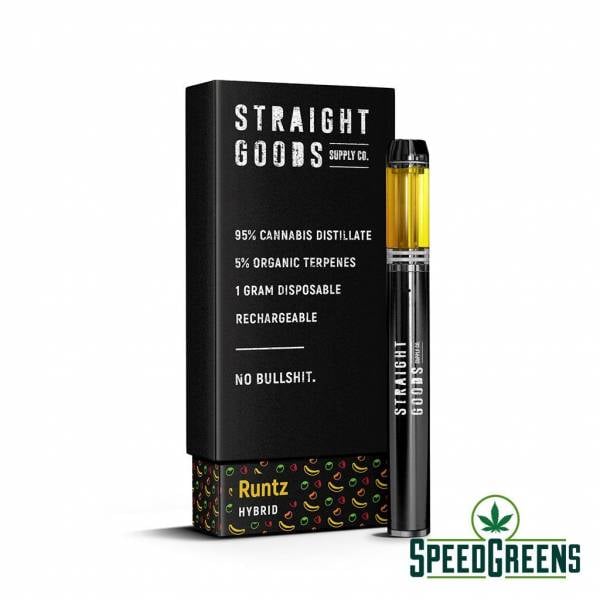 Pros and Cons
Like all products, it has its highs and lows. On the plus side, it is user-friendly, adjustable, comes with a variety of flavors, and focuses on organic material. However, the initial cost may be somewhat high for some when it comes to premium vape pen products on the Canadian market.
Overall Value
Given the multitude of benefits, the high-grade distillate, and the premium flavors, it offers extreme value for its price.
Tips and Tricks For Best Results
Make sure you keeo the vape pen charged for full body rips
Do not turn t upside down because the tip can clog up
Take your hits slow at first, then build up to larger ones as you become familiar with the product
Final Thoughts
Product Summary
In summary, I had a great time reviewing the Disposable Vape Pen by Straight Goods Supply Co. is a game-changer in the Canadian vaping market. It harnesses the greatness of cannabis in an easy to use, draw-activated pen that's clean smoking.

Final Thoughts - Straight Goods Supply's Disposable Vape Pen in my perspective offers an easy-to-use high quality vaping solution with premium distillate and organic terpenes..