This GetKush review is my second that covers their AAAA grade cannabis and concentrates. My first review of GetKush discusses the online dispensary as a company with all their promotions, and with an unboxing GetKush review.
I had fun creating this GetKush review and experiencing all their premium products with my friends. I hope you have some fun as well, make sure to watch the video of Darth Vader playing the guitar for Death Star money.
If you have any questions or comments, please post them at the end of this article in the comments section, we love to help any way we can.
The Chronic Beaver reviews online dispensaries, cannabis brands, and vapes of all kinds, if you would like to have your business reviewed, please grab our attention and let's talk.
Mango Haze Cannabis Strain Review
The Mango Haze strain GetHush sent me to review is beautiful looking with typical Sativa elongated bud structure that gave me a dreamy high while allowing me to be productive in an easy going, level headed kind of way.
KNOWN EFFECTS
Cerebral
Energizing
Euphoria
Focus
Happy
Relaxing
Uplifting
This bud is delicious and very effective, I sampled it alone and was a perfect high for a sunny late winter afternoon work sesh. I vaped this strain in my Davinci MIQRO then smoked a joint and got right into it. Once I opened up the windows in my office this high started its course with uplifting inspiring energy, like the feeling of a warm Vancouver Island winter breeze coursing through you with spring in the air. I love it when that happens, don't you?
The effects of Mango Haze hit hard at first then it mellowed out with a positive body high that just kept going, allowing me to focus deeply and get this particular strain review done. The body high didn't make me sleepy, making Mango Haze ideal for day use when you need an energy boost that is also pain relieving.
Additionally, Mango Haze is a perfect strain for treating fatigue, stress or anxiety, mild to moderate cases of depression, and chronic migraines or headaches.
APPEARANCE FLAVORS & AROMAS
The Mango Haze buds from GetKush were medium sized dense foxtail-shaped nugs that were forest green with dark amber hairs and with beautiful crystal clear white trichomes that gave the overall appearance of the buds a whitish hue.
The buds, as expected, had an enticing aroma of sweet mango with a hint and taste of sweet tropical fruit.
When vaping Mango Haze the fruity flavors were more prominent when compared to smoking it. Smoking this strain was more enjoyable for me because it hit harder and tasted earthy with a hazy sweet fusion that was more subtle.
It smoked wonderfully, slowly, and evenly with nice clean white ash. I recommend if you get your hands on this strain, to smoke it in a joint first as a starting point to base your comparisons on.
THE CHRONIC BEAVER'S MANGO HAZE STRAIN RATINGS
Bud Appearance: 8.5/10
Effects Quality: 9.5/10
Vape & Smoke Quality: 9/10
GetKush R
eview – Death Star Strain
Death Star from GetHush was something to remember. I`m tempted to quote some Star Wars pun, but it`s been overdone, so instead, take a look at Darth Vader on the guitar raising money for his own Death Star, playing some Rage Against The Machine. Makes me laugh every time!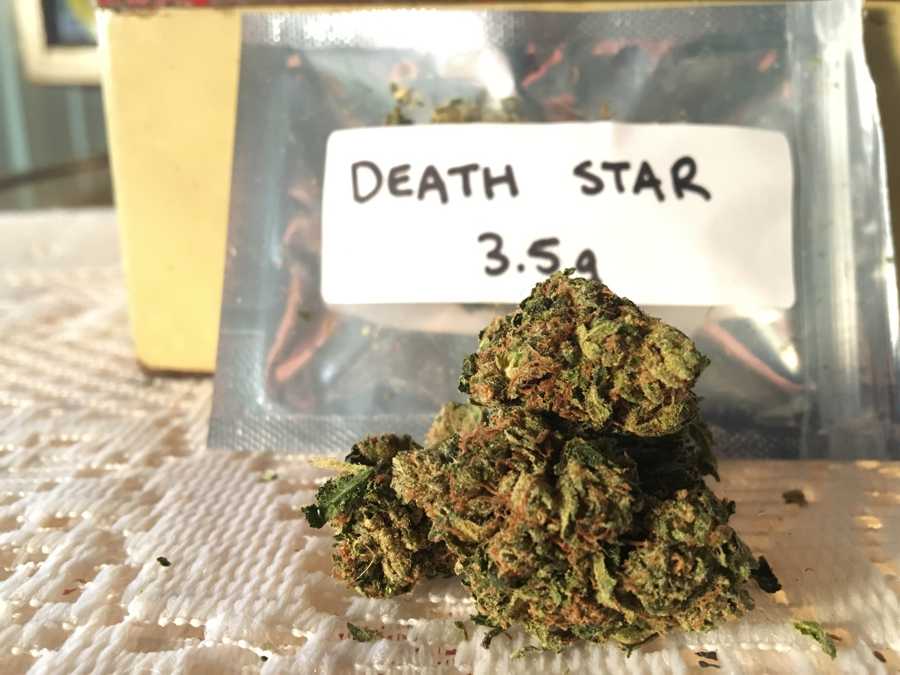 Death Star Cannabis Strain Review
Okay, time to get serious, Death Star is a powerful dominating strain plain and simple. The THC content in this strain is over the top and I`ve seen it clock in at 30% from some expert growers.
The sample I received had nice medium to large buds that were sticky and fat in appearance. I smoked Death Star (no vape this time) with a few friends one evening and we had a good old time around the pinball machine. We all felt the Indica effects creep on after the first joint, and after the fourth fattie, the games got more intense and competitive, high scores were beat, and not by me!
KNOWN EFFECTS
Relaxation
Euphoria
Stress Relief
Helps with Insomnia
Helps with Depression
Pain Relief
Happiness
Will get Dry Mouth 100%
The effects of Death Star hit us all hard at first as mentioned, but later on, we were all spaced-out, very relaxed, and elevated to a happy mental state, while glued to the couch. No, we didn`t get into a Star Wars marathon, but we did geek out and have some interesting conversation around how fast the comic book version of the Hulk would crush any version of Captain Marvel.
Death Star, like all strains, has its own set of medicinal benefits. Many people suffering from depression turn to medicating with Death Star. It also is very effective to help alleviate stress and is a powerful sleeping aid strain. Nausea and pain are two more ailments that Death Star can be used to help relieve.
APPEARANCE, FLAVORS & AROMAS
The appearance, flavors, and aromas of Death Star are all pretty much exactly a blend between its two genetic origins; Sour Diesel and Sensi Star. Death Star is very pungent and aromatic especially when you crack open a bud. You will smell it immediately and will dominate whatever space you`re in quickly. So yeah, you won`t be sneaking around with this strain easily, and watch out for the roaches if you like to save them, they are little skunky stink bombs.
GetKush`s Death Star smelled somewhat earthy and skunky, with slight diesel and sweet undertones. The flavor is very similar to its scent. When smoking the joints, we did get a bit more of a diesel back flavor with a side of citrus. It tasted smooth on the tongue on exhale with some tingling mixed in. I love that and is a sure sign of great BC bud.
The appearance of Death Star was fat and dense with dark green leaves and dark orange hairs (trichomes). They were very nice looking nugs that had a unique look and feel to them, any connoisseur would be happy with GeKush`s Death Star.
THE CHRONIC BEAVER'S DEATH STAR STRAIN RATINGS
Bud Appearance: 9/10
Effects Quality: 10/10
Smoke Quality: 9/10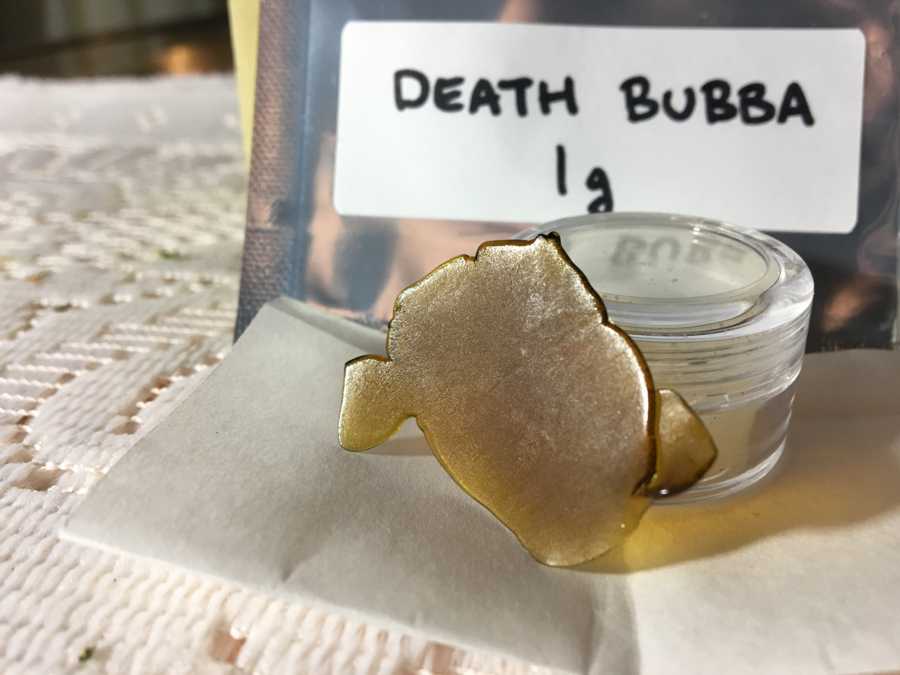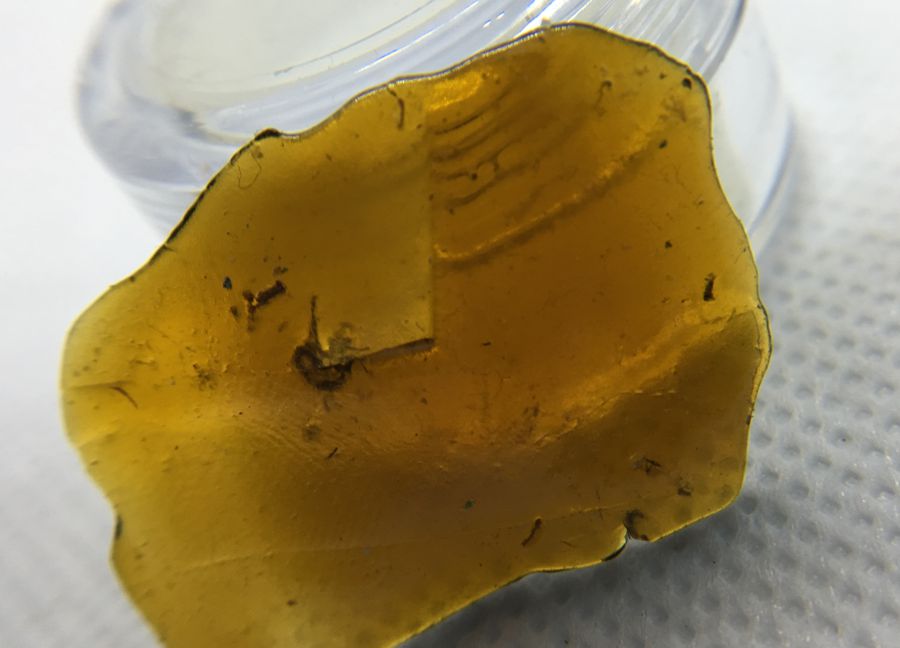 Death Bubba Shatter Review
The Death Bubba shatter GetKush sent me was a nice piece of glass! The gang and I were sitting around the couch one evening getting ready to watch a movie and we fired up the Nectar Collector to give this shatter a go.
We dabbed the whole gram over the course of an hour between 3 of us, and I must say the effects were textbook Death Bubba but it tipped the scales on the potency meter.
DEATH BUBBA KNOWN EFFECTS
Euphoria
Sleepy
Happy
Relaxing
Dry Mouth
The shatter performed like the Death Star did before the rebels blew it up (I know, I had to). When dabbing it with the red hot Nectar Collector the smoke was solid white, very smooth and pure with no chemical taste. On the exhale, the flavor reminded me of black licorice with earthy undertones.
After about 8 dabs, I was feeling its effects immediately, the left side of my brain kicked in and I was overwhelmed with relentless culinary inspiration. So to hell with the movie at this point, and I cooked up some braised beef street tacos for my friends who were fixated on the couch. La fiesta Mexicana fue épica!
The Death Bubba shatter relieved my numerous aches and pains nicely and it`s also a good option for those looking for quick and effective relief from stress, insomnia, and depression.
SHATTER TEXTURE
GetKush`s shatter look and feel had rootbeer transparency that was not sticky to the touch but was glass like smooth at room temperature. It was the perfect thickness as you can see in the above pics, making Death Bubba shatter easier to handle and break apart, it snaps perfectly.
THE CHRONIC BEAVER'S DEATH BUBBA SHATTER RATINGS
Look & Feel: 9.5/10
Effects Quality: 10/10
Medicinal Quality: 9.5/10
FINAL THOUGHTS - All of the samples from GetKush were top quality in all departments, I highly recommended them for their AAAA flowers and concentrates.