CBD Magic Canada Review
Welcome to the wonderful healing world of CBD, the Canadian way! My CBD Magic review and unboxing covers popular CBD products sold in Canada from the best known brands – CBD Magic, CBD2Heal, and Zen Leafs CBD Gummies (edibles).
I dove deep into the world of CBD once again and shared the products with some friends who are very familiar with the benefits of CBD oils, salves, and edibles. Join us, and get an inside look of our experiences and thoughts of these CBD brands and products.
This review includes:
Top pros and cons
CBD Magic dispensary profile
Promotions and discounts
Unboxing and service review, photo gallery
Product Reviews
---
Final ratings, and final thoughts
CBD Magic Top Pros & Cons

Free shipping in Canada, with no minimum order.

Dosage instructions can be misleading.

Excellent brand, transparent, with a good return policy.

Salve products doesn't absorb into your skin as well as others.

3rd party lab-tesed products, results are made available to the public.

CBD gummies are a little overpriced.

40+ combined years of professional experience in customer service and CBD production.

Competive pricing model, good value for money.

Large selection of products, with high CBD dosages available.
CBD Magic

 Review – Dispensary Profile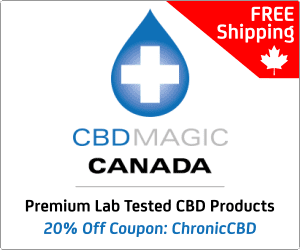 CBD Magic online dispensary is based out of Toronto, Ontario, Canada. They work with top innovators and scientists including a former Apotex chemist. CBD Magic is a vertically integrated manufacturer, processor and distributor of hemp derived extracts, focusing on high-tech CBD (cannabidiol) and vital cannabinoids for optimal health. They operate a state-of-the-art facility for the processing of hemp & CBD for both small and larger scales. Their lab facility enables extraction, winterization, distillation, purification and crystallization of hemp and Cannabidiol. It also includes state-of-the-art wet labs with solvent-handling systems, inert atmosphere glove boxes and a full suite of analytical testing equipment.
The Brands
Under the CBD magic umbrella you will discover two additional specialized Canadian brands:
CBD2Heal, producing high-quality, lab-tested, 99% pure CBD isolates that has no THC. As well as, CBD topicals, salves, and creams.
Zen Leafs, for modern CBD products featuring CBD edibles, full spectrum sleep capsules, and CBD anti-aging cream.
Is CBDMagic.ca Legit?
Yes CBDMagic.ca is a legit Canadian CBD online dispensary. They have 40 years experience in business operations and are experts in everything CBD. All of their products are lab tested by 3rd party labs with the reports available to download on their website.
WEBSITE SECURITY - SSL certificate, 256-bit encryption
CUSTOMER SERVICE - Professional and repsonsive
PRODUCT QUALITY - Lab tested, trustworthy brands
Promotions and Discounts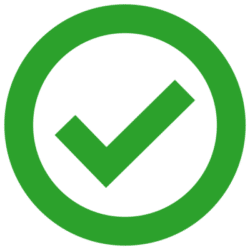 On top of their competitive pricing model, CBD Magic offers a unique 20% off coupon code and seasonal promotions.
20% off coupon code: ChronicCBD
Free shipping Canada wide with no minimum order required.
CBD Magic Canada
Photo Gallery,
Unboxing Review, and Service
I ordered a good range of products for this CBD Magic review. When my package arrived by Canada Post in 3 days, I was impressed by the speed of delivery considering it was shipped from Toronto and headed to Vancouver Island. Using their website was a friendly experience, and it was easy to order online. It seemed that the information I was looking for was readily available when first thought questions came up while shopping.
Unboxing
The package was professionally presented and packaged in a plain labeled bubble envelope with the sealed and self-contained products inside.  The overall presentation was discreet, smell proof, and very professional. I was satisfied and felt good about the CBD Magic brand right away.
Service
The service I received from CBD Magic was exceptional. From the great user experience, to getting a quick response from my form mail inquiry. I didn't have any pressing questions, but I thought I would ask something just to test their response times. Also, just a quick note that they have a phone number – 1 (844) 522-4223 (LAB4CBD) for those who prefer a live person to contact.
As mentioned, I was also impressed with the speed of shipping and professional presentation. Overall, the service at CBD Magic is some of the best I have received when it comes to online dispensaries in Canada.
CBD Magic Reviews –

Products
Zen Leafs CBD Gummies Review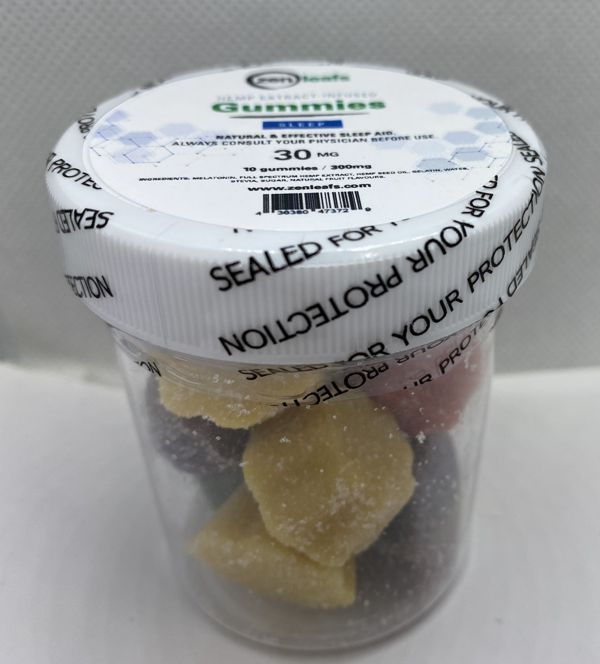 These CBD gummies for sleep were fantastic little wonders of wellness and peace of mind. The packaging was top-shelf, using a plastic sealed container, with all the required information on the lid.
Product description from their website.
We are proud to provide great tasting CBD gummies for sleep that is manufactured and produced in Toronto, Ontario. Infused with CBD Oil for sleep, our CBD edible provides sleep like you have never experienced. The combination of the ingredients pushes that boundaries and capabilities of CBD.
Serving Size: 30mg CBD per gummy, 10 per container.
Full Spectrum Hemp Oil Certificate Certificate of Analysis can be found on the product page.
——–
I saved these gummies all for me because I am a believer and fan of CBD edibles. When it comes to first impressions, these gummies look very appetizing, and that counts for a lot when perceiving and trying any new food product for the first time. They also taste great, somewhat sweet, and the consistency of these gummies was perfect for me, soft and not too chewy, and they are easy to digest.
I love CBD edibles for a lots of reasons other to help me get a good night sleep. The two main ones are that they generally taste great and it doesn't feel like you are taking medicine, like Buckley's Mixture! Secondly, CBD edibles work well for greenovers and hangovers. Keep them close by for the next morning after you partied a little too hard, one CBD gummy, and a glass of water will help get you up and about nicely.
CBD2Heal Salve Review – CBD Topical for Pain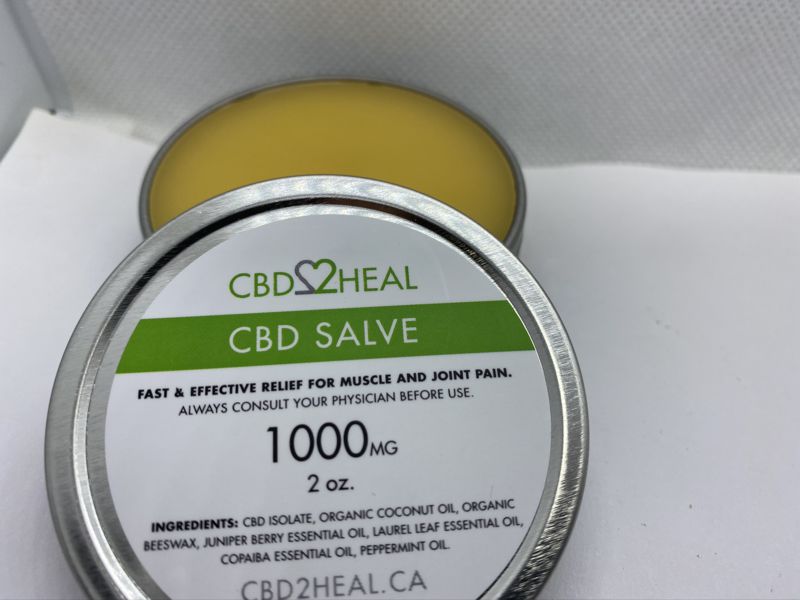 The CBD salve by CBD2Heal is a topical application that helps to relieve muscle and joint pain. The consistency of this product is hard or waxy to the touch for a salve/cream and is unique in such a way that you don't seem to over apply the product which can be a good thing. It has a peppermint floral aroma that smells good on your body, but it does leave a waxy feeling on your skin.
This product contains no THC and its ingredients include:
CBD Isolate
Organic Coconut Oil
Organic Bees Wax
Juniper Berry Essential Oil
Laurel Leaf Essential Oil
Copaiba Essential Oil
Peppermint Oil
Product description from their website.
CBD Healing Salve Cream for Pain Relief 1000mg – Looking for CBD pain cream that will provide great pain relief in Canada? You have come to the right place! The CBD Healing Salve Cream is our #1 seller and is loaded with a variety of Essential Oils, Beeswax, and infused with CBD isolate to treat and heal chronic pain, muscle pain, joint pain, bruises and more.
Cannabidiol Breakdown on Dosage: 2oz tin: 1000mg CBD.
CBD Certificate of Analysis can be found on the product page.
——–
I shared this CBD healing cream with four friends who would benefit most from it and used it myself everyday for almost a month. I started with the 1000mg of CBD tin and portioned it out equally five ways, so that was about 200mg of CBD each. I used it mainly for my knee joint pain and shoulder muscle pain every morning and before bed. I can tell that a little goes a long way with this stuff. I would apply a small finger dab each time to my problem areas, and rubbed it in for about 30 seconds or so. I found that it worked really well for my muscle pain and adequately for my joint pain. The salve itself takes a bit to work it in, and doesn't absorb as well as some of the others I've used and reviewed.
My friends all reported back in after 4 weeks, and the overall report was very positive. Everyone said it worked in one way or another for their various aches and pains. Two of them didn't like its consistency or waxy texture if you will, because it wasn't what they were used to. But, they both mentioned that it does relieve pain and they would love to try the higher CBD dosage versions of the salve. And, the other two have become regular CBD2Heal pain cream customers.
Overall, CBD2Heal's Salve for pain is a good product that works. Some may not like the way it absorbs into your skin, and some may not like it's waxy consistency, but everyone loved how it relieved their pain issues.
Final Ratings & Final Thoughts
I hope my CBD Magic review was helpful and informative. If you have any questions about this online dispensary, please post them in the comments section below, and I will help the best I can.
See my final ratings and thoughts below.
Cheers,
The Chronic Beaver
The information contained in this site is provided for informational purposes only, and should not be construed as medical or legal advice.
FINAL THOUGHTS - CBD Magic is a transparent credible online dispensary with a lifetime of combined experience. Their service rocks, and their products and brands are top-shelf. Highly recommended for all your CBD needs.