There is nothing like the best hash in the world, and Canada is home to some of the top imports and domestic varieties. There is also nothing like the aroma of hashish. It's resinous inviting stench reminds one of simpler times when cannabis came in two types – flower or hash.
These days, the market is saturated with new types of concentrates such as shatter, THC distillate, THCA diamonds, resin, budder, and so much more. While these potent extracts are welcome and generally fantastic, they don't have the timeless energy of hash. Nor do they have the authenticity and rich history, centuries in fact of what Hash has.
In this exploration of the best hash in Canada, I will breakdown the ins and outs of the 5 most popular types of Hash that exists in the Canadian marketplace.
I have been uniquely privileged in my life and have smoked so many different types of hash, both imported and domestic, including over 20 types of domestic bubble hash. I think you would be surprised by how much hash I've smoked since cannabis was legalized in Canada back in 2018, not to mention over the past 35 years. I've reviewed 5 types of hash in some of my online dispensary reviews, I covered Afghani hash, black hash, Moroccan hash, Nepalese hash, Lebanese hash, Jamaican Gumball hash and I have about 10 other types of hash that I will be publishing reviews for going forward.
You might not know what Hash is, so let's get on the same page first with a quick overview. Also, to conclude, I will provide an overview on how hash is made, including finger hash.
With that, let's conclude the history portion of this class. Let's move our attention to the different types of hash that make up the best hash in Canada.
The Best Hash in Canada – Top 5 Most Popular Types
With all the new types of concentrates available on the market these days, has hash fallen somewhat out of favor? I think not, its more popular than ever, more and more types of hash are progressively becoming available, especially in 2023. You can buy hash online easily from hash MOMs who carry some of the best hash in Canada. You can find multiple varieties of hash from each popular type, so lets break it down.
1) Moroccan Hash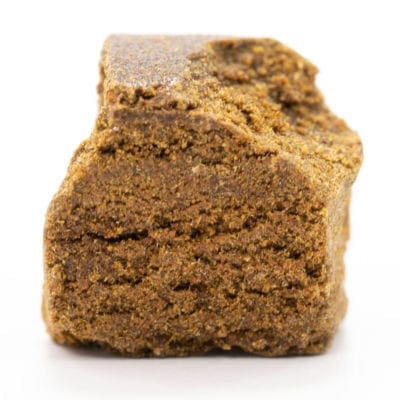 Moroccan hash is one of the best types of imported hash you'll find in Canada and is one of my favorites. This light golden-brown hash type is soft to the touch and crumbles easily, with that unmistakable spicy aroma.
Although this extract is illegal in Morocco for recreational use, it doesn't stop it from being the largest exporter to Europe. I'm not surprised, as Moroccan hash is a top-tier product and very popular in Canada as well.
Moroccan hash is made by separating and collecting/sifting the trichomes from cannabis plant, which are then pressed into slabs or pads. A good way to identify imported Moroccan hash that' s truly authentic is by taking note of the Moroccan producer's stamp on the product to identify its quality, origin, and/or destination.
If you are looking to try some of this authentic hash, Speed Greens has a rare import that's AAAA quality, read my detailed Moroccan hash review to learn more.
Budlyft online dispensary also has some Moroccan blonde hash on sale for a good price. I tried it last year, it's excellent.
---
2) Nepalese Hash
This type of Hash is much darker and malleable than its Moroccan counterpart. Its consistency is very soft and easy to work with, making it the best hash to roll "snakes" for joints.
Nepalese hash is a pungent and powerful extract, with THC levels hitting upwards to 60%. Its flavour and smell are easily recognizable as it stands out much more than the other types. It has a deeper aroma than Moroccan hash, almost like chocolate that you would want to eat. While not as common as Moroccan hash, but in 2023 Nepalese hash is making a comeback and is widely available online.
Budlyft is the best place to buy Nepalese hash online, and they have Nepalese Temple Ball hash as well.
---
3) Lebanese Hash
Lebanese hash comes in two types, Red Lebanese hash (my review), and Lebanese blonde hash. This type of hash is famous all over the world, and Canada is lucky to have ample varieties of it imported from different producers. You will be able to find it online easily but might have a hard time finding it at your local curbside dispensaries.
About Lebanese Hash – It stands out from other types of hashish due to the specific strains of cannabis used in its production, the unique methods of processing and curing, and the area's growing conditions. The cannabis plants are carefully cultivated in the heart of the Baalbek Valley, where the harsh environmental conditions and less than ideal climate help to develop thick coats of THC trichomes on the landrace strains native to the region. This natural defense mechanism results in high-quality cannabis that is perfect for hash processing, and contributes significantly to the potency, quality, and overall excellence of genuine Lebanese hash.
---
4) Afghan Hash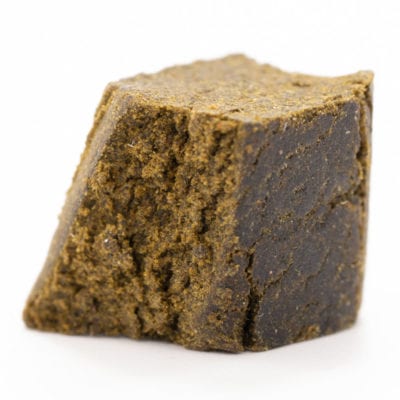 Afghan Hash is the baby bear of the bunch and is in the top 5 list because of its high potency, unique flavor profile, and infamous reputation of excellence. Because of this, demand is high and it's widely available in Canada. You will find different varieties of Afghan hash including, Afghan Black Hash, Afghan Mazar Sharif Hash, Afghan Gold Seal Hash, and Afghani Hash. Budlyft online dispensary has it all, check out their entire hash menu to browse all the varieties of Afghan hash they have in stock.
In my experience, Afghan hash is not only potent but also flavorful like traditional hash. It smokes and crumbles well, with exhales that are packed with deep flavors and thick rich smoke. I definitely recommend trying it for yourself and experiencing some of the best hash on the market.
---
5) Domestic Bubble Hash
Bubble hash is the new kid on the block so to speak. Unlike the previously mentioned hash types, any type of cannabis strain works for making Bubble Hash. We'll go over it a bit more shortly, but this is a crumbly and uniquely flavorful extract that's made domestically here in Canada, and we are getting better at making it year over year.
It's made in Canada, and it's the hottest thing on the market right now – by EarthWolf Farms
This golden-brown hash is a favorite of mine because you can buy it from your preferred cannabis brands in Canada and know where and how it was made in detail. Sometimes the imported hash producers can be elusive with the details.
Bubble hash in general is made to be high quality and is a feature or icon of Canadian cannabis brands due to its ability to stand out in the crowd and rank supreme. A noteworthy local BC bubble hash is Lillooet Gold made by EarthWolf Farms. Its a very popular and potent (54.8% THC) bubble hash type that's crossed with UK Cheese and Bubba Kush strains. The strains are organically grown outdoors, and the bubble hash is made by using traditional ice-water extraction methods. I haven't tried it yet myself, but I've heard endless great things about it and plan on doing a review sooner than later.
Budlyft also has an impressive Bubble Hash menu with over 15 varieties of bubble hash all made from different strains, creating a myriad of flavor profiles that are impressively unique. I've had their Gelato Bubble Hash, and it was ultra tasty and floral, much like the strain itself. I find that most of the types of bubble hash that I've had over the years deliver a more intense body high that's relaxing and sedating. The imported hash I've smoked generally seems to effect me more in the cerebral area of the spectrum, I'm wittier, more creative, on point, and well, just better.
To Conclude: A Peek at How Hash is Made
Hashish is an old extract, but other than bubble hash, the way it's made hasn't changed much. Making hash consists of 2 methods: heat and pressure or using bubble bags with ice.
Here's a brief breakdown of both approaches:
Heat and Pressure
The original method, which is still being used today, is done by pressing the trichomes and kief. In essence, producers collect trimmings, trichomes and kief and apply pressure with heat. The heat molds the compounds together and forms the consistency we know and love.
Bubble Hash
Bubble hash is newer to the market but has an avid local following. It uses bubble bags and a rotating machine similar to a washing machine to compact the extract. This method requires little start-up money and can done from the comfort of your own kitchen.
Another variation is drum hash, which is very similar to bubble hash but uses industrial machinery.
Finger Hash
An unofficial method for making hash includes using your fingers. This might be the actual origin for Hash, as it's simply made from the collected kief and trichomes on your fingers from hours of trimming. You won't find this variety at any dispensary, but you may accidentally make some from time to time, if you know what I mean.
I hope you learned a few things about the best types of hash on the market in Canada, and this article was helpful. If there's anything I didn't cover that you'd like me to clarify on, be sure to let me know in the comments section below.
Until then, stay buzzed my friends, and enjoy some of the best hash in Canada.
Cheers,
The Chronic Beaver