The best weed delivery in Canada includes two types of services: same day weed delivery and mail order delivery. Same day delivery services can be found in most Canadian cities that have a minimum population of about 10,000 people, and the best can found in larger cities, for example Vancouver same day weed delivery services. Now, when it comes to the best mail order marijuana MOM dispensaries, they are located out of BC – mostly the Vancouver area – and ship some of the best west coast BC bud I've ever smoked.
When getting weed delivered no matter where you are in Canada, you always want the best service and the best quality cannabis products possible at the cheapest price, who doesn't right?
Contents
Understanding the important differences between same day weed delivery services and mail order marijuana, and how it all works
Help with determining the best weed delivery service that suits your needs
How The Chronic Beaver rates the best weed delivery services
Best Weed Delivery in BC feature
Best weed delivery services Canada guide by province
Conclusion
The important differences between same day weed delivery services and mail order marijuana.



Same Day Weed Delivery vs Mail Order Marijuana

Delivery Speed - 1 to 12 hours

Menu offering is typically smaller

Menus are larger with a diverse product offering

Easy Ordering? Can be cumbersome and confusing

Online ordering system is streamlined and secure

Lacks professional delivery infrastructure and reliability

All orders are shipped via Canada Post

Can pay cash at the door with many companies

Email transfer and Bitcoin are the common payment methods

Deals & coupons are harder to find

Highly competitive marketplace, deals and coupons are aggressively promoted
How same day weed delivery works.
Ordering weed for same day delivery is generally an easy process, but with some of the smaller companies it can be a pain in the butt. You should be able to order online, and if not via phone or text. The online option will provide a shopping cart where you can create your order and select the same day delivery option at checkout. You can then pay online normally via email transfer, credit card with the licensed dispensaries, or arrange to pay cash at the door with the legacy operators. All ordering details will be provided to you during the checkout process with instructions on how receive your order from the delivery driver.
I don't like ordering my weed via text or by phone because it's a communication nightmare. Too many mistakes are liable to happen, resulting in getting the wrong order delivered, or worse yet, getting over charged. But when you need weed fast, like now, then a same day service is the right choice.
How Mail Order Marijuana (MOM) works.
Ordering weed online to be shipped by Canada Post is my preferred method. It's more reliable, and I get way better deals and more options. To order from a MOM, the first thing you need to do is register for a new account. You won't need a medical card or anything, you just have to prove that you are older than 19, or 18 in Alberta, and 21 in Quebec. Once that is done you are ready to go and can start adding items to your cart. Then checkout, and enter any valid coupons codes to get a better deal. Payment is made typically via email transfer, and the MOM will provide you instructions for that. Shipping is free when you hit a minimum order threshold, usually about $150. Here is a top 10 list of the best Canadian MOMs.
Determining the best weed delivery service that suits your needs.
The best weed delivery service for you depends on where you live in Canada and on your tastes, or what what kind of products you prefer.
If you live is rural Canada, you know far and away from any major city, then a same day delivery service may not be available to you. This is when Mail Order Marijuana is best for you. In any major city in Canada you will find that same day weed delivery is widely available. The best services can be found by reading reviews on Budhub Canada, Budhub.ca, and Reddit.
If product preferences are your thing – like the best craft cannabis, top shelf concentrates, CBD, and the best edibles – then you will always get better selection, more brand options, prices, and quality from Mail Order Marijuana dispensaries.
How The Chronic Beaver rates the best weed delivery services.
The best weed delivery services in Canada are rated by online reviews over multiple platforms and forums. They are also based on my reviews and discussions with dispensary staff, owners, and customers.
I always look for the best in:
Menu selection with popular cannabis brands
Dispensary branding. If their website is messy and hard to navigate this is a big red flag for me and they are not recommended
Online reviews about customer complaints and if they were managed professionally or not
Online reviews about product quality
If the delivery ordering information is presented clearly with useful FAQs
If they have a website with a shopping cart. The text only same day delivery services are low budget and hard to trust in general
BC's Best Same Day Weed Delivery Service and MOM Combined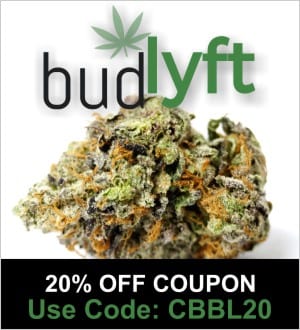 Budlyft is a great example of the best weed delivery service in Canada because for starters, they are highly reviewed from coast to coast. They offer both same day delivery in the lower mainland BC and mail order services across Canada. Plus, they have a huge menu offering and incredible deals and coupons you can take advantage of.
More about Budlyft Same Day Delivery.
More about Budlyft Online Dispensary for Canada wide shipping, with deals and coupons.
My Budlyft unboxing review.
Conclusion
There are two main takeaways here. The first is always do your research, read the reviews, and make sure you trust the weed delivery company before you spend your hard earned money. And the second is to make sure that you order from the best type of delivery service that suits your needs, preferences, and location. I hope that I helped with the trust part.
Stay stoned my friends and may your weed delivery be fast and friendly!
Cheers,
The Chronic Beaver